Novel Cancer Immunotherapies: Targeting Multiple Avenues of Cancer Immune Evasion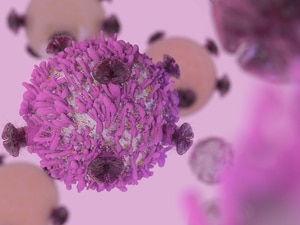 Dr David Munn reviews the latest understanding in cancer immunotherapy, focusing on new pathways to target and novel combination therapies.
This activity is intended for hematology/oncology specialists, dermatologists, pulmonologists, and other healthcare professionals who treat patients with cancer immunotherapies.
The goal of this activity is to review the rationale for new immunotherapy approaches to reactivating immune surveillance in patients with cancer.
Approximate Time to Complete: 1.25 hrs
Credit Available: Feb. 28, 2019 - Feb. 28, 2020
Developed through a partnership between SITC and Medscape.
Course Objectives
Upon completion of this activity, participants will be able to:
Have increased knowledge regarding the common strategies and pathways that are harnessed by cancer cells to avoid detection by the immune systempatients receiving immune checkpoint inhibitors (ICIs)

Have increased knowledge regarding the mechanisms of action of emerging cancer immunotherapies

Have increased knowledge regarding the emerging clinical trial data on the use of novel cancer immunotherapy regimens in the management of difficult-to-treat cancers
American Board of Internal Medicine
ABIM MOC Part 2 Credits: 1.25
Accreditation Council for Continuing Medical Education (MD/DO)
AMA PRA Category 1 Credit(s)™: 1.25