Immunotherapeutic Approaches in TNBC: The Latest Data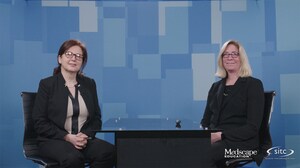 Drs Emens and Adams discuss the emerging data for checkpoint inhibition in both the metastatic and neoadjuvant disease settings for TNBC.
This activity is intended for oncologists, obstetricians/gynecologists, and other healthcare professionals involved in the treatment of patients with triple-negative breast cancer (TNBC).
The goal of this activity is to increase understanding of the latest advances in the use of immunotherapy for the treatment of TNBC.
Learning Objectives:
Have increased knowledge regarding the biologic rationale for using immune checkpoint inhibitors (ICIs) to manage patients with TNBC.
Have increased knowledge regarding the emerging clinical trial data on the use of ICIs in the management of TNBC
Have increased knowledge regarding the ongoing clinical trials that may affect standards of care across the treatment continuum for TNBC
Approximate Time to Complete: 30 minutes
Credit Available: Mar. 22, 2020 - Mar. 22, 2021
Developed through a partnership between SITC and Medscape.
Additional Resources for Clinicans from SITC:
Accreditation Council for Continuing Medical Education and ABIM Maintenance of Certification
AMA PRA Category 1 Credit(s)™ / ABIM Maintenance of Certification Part 2 Credit: 0.25
Accreditation Council for Continuing Medical Education (MD/DO)
AMA PRA Category 1 Credit(s)™: 0.25